Rustique - Spray on Rust Paint Kits
Spray on Rust Paint from Custom Creation Paints creates Vintage And Antique Chic
Rustique is a spray on rust paint that will adhere to almost any surface. The paint application covers the surface with rust, with all its nuances of colour. It has a wide variety of applications including plastic, wood and metal. This allows you to bring a vintage style to almost any surface, creating a natural rusted patina.
Spray on Rust Paint is a relatively new concept, which has become noticeably popular with designers, DIY enthusiast and the automotive trade throughout the world. The battered, well-loved, homely look has become very fashionable as it provides a texture, varying tones and intense depth of colour, which is often mistaken as unfinished to the untrained eye. The spray on rust paint has many fans from the world of architecture because of its unique appearance without the drawbacks of actual rusted metal, which degrades the surface.
Spray on Rust Paint for the automotive world
Rustique is not only used in the design world but is becoming increasingly popular in the automotive world, allowing customisers to create a "rat look" vehicle or vehicle parts without the need of actually making the metal rust. Rustique rusty paint contains iron powder, which is suspended in a specialised carrier. Therefore only the outer surface of iron powder that is exposed will rust, so you can create a rusty effect on the top surface without damaging your car's bodywork. The other key advantage to its use in the automotive would is the ability to apply the Rustique spray on rust paint to the plastic bumpers of a vehicle, allowing you to create the same look on any surface of the vehicle.
Architectural features with Rustique
Spray on rust paint is widely used by architects for application on the interior and exterior of buildings. This includes such elements as feature walls and courtyards. The Rustique spray on rust paint gives an industrial, rugged finish to any surface. Buildings take on a leathery hue with fiery orange patches against the backdrop of a bold blue summer sky.
Sculpting a unique finish with Spray on Rust Paint.
Spray on rust paint offers a unique and durable finish for sculptors and artists too. Rustique brings an industrial, raw-looking finish to art. In terms of colour, it provides an explosion of golden orange, sunset hues, and russet red. Surfaces become modern, warm and tactile. Rustique spray on rust paint is a chemical reaction, and individual results may vary due to film thickness, application methods, ambient temperature and substrate. You can create a bespoke piece that is stylish and truly inimitable!
What Surfaces and how?
Rustique spray on rust paint is to used over the top of primer and can be applied to any surface that can be primed or sealed. This means there is a list of endless materials that Rustique can be used on. For example, you can use rust effect paint on MDF, plastic, metal, fibreglass, concrete or even exposed wood. Rustique can be easily applied with a paintbrush but for the very best effects it should be sprayed on. For more information on the application process, take a look at our example Spray on Rust Paint video here.
So, is it really rust?
In a word, YES! It's real rust and not just a rust effect like other products that are available on the market. One of the biggest benefits of Rustique is that it can be sealed with a dead matt clear coat to stop the powdering effect that you get from real rust or other rust effect coatings. This means that Rustique spray on rust wont come off onto other surfaces and wont leach or stain the area around the Rustique when its wet. This makes Rustique one of the most durable finishes available on the market.
What next?
Rustique spray on rust paint is available from Custom Creation Paints as a kit that covers upto 4 – 5 square metres. The kit is available with the optional extra of dead matt 1k clear coat which is available to purchase along with the spray on rust paint kit. Custom Creation Paints are able to ship the kit almost anywhere in the UK, Europe and rest of the world.
What Surfaces Can I Use It On?
For more information on Spray on Rust Paint visit: www.customcreationpaints.co.uk/liquid-metal/Liquid-Metal-Rustique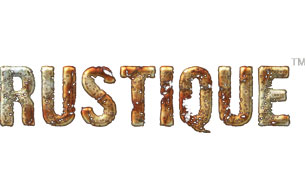 Rustique - Spray on Rust Paint Technology
Spray on Rust Paint kit - Rustique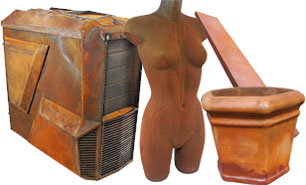 Spray on Rust Paint Examples
Rustique Spray on Rust Paint Video